Introduction:
The machine can be produced smear cheese or any pastry fillings. Put the raw materials or cheese block into pot then they are cooked by steam and cut, stired by high speed knife. The final product is formed as a paste when it is hot.
It consists of;
A pressure resistance pot with steam jacket;
Steam can direct jet into pot to heating and cooking the product in pot;
Vacuum pump and vacuum control system for sucking out moisture from product in pot; Automatic lifting and dumping funnel put in raw material device by hydraulic driver.
Pot dumped device by motor and gear box with brake block device, it is for put out the final product from pot ;
High speed and strong power knife, for cutting and stirring the raw material into fine grain, a paste form and uniformly mixed.
Low speed slicker on the top of cover driven by motor with gear box. Sealing cover and its lock device, they are driven by pneumatic device. Temperature control system to control the temperature in pot;
PLC and touch screen control system to order the machine running in program and set different programs for different products.
Parameters:
Batch capacity: 50-300 L/batch
Working pressure range: Vacuum(-0.4 bar) to Pressurised(1.5 bar)
Working temperature: 115 C
Heating method: jacket stem heating
Cutting blade speed: 300-2,000 rpm
Bowl side scraper speed: 12-20 rpm
Operating power: 3 phase, 380 V 50 Hz
Power consumption: 20-50 kW
Compressed air: 6 bar(min),constant
Material for machine: SUS 304 or 316>
Dimension(L*W*H): 2200 mm*1200 mm* 1500 mm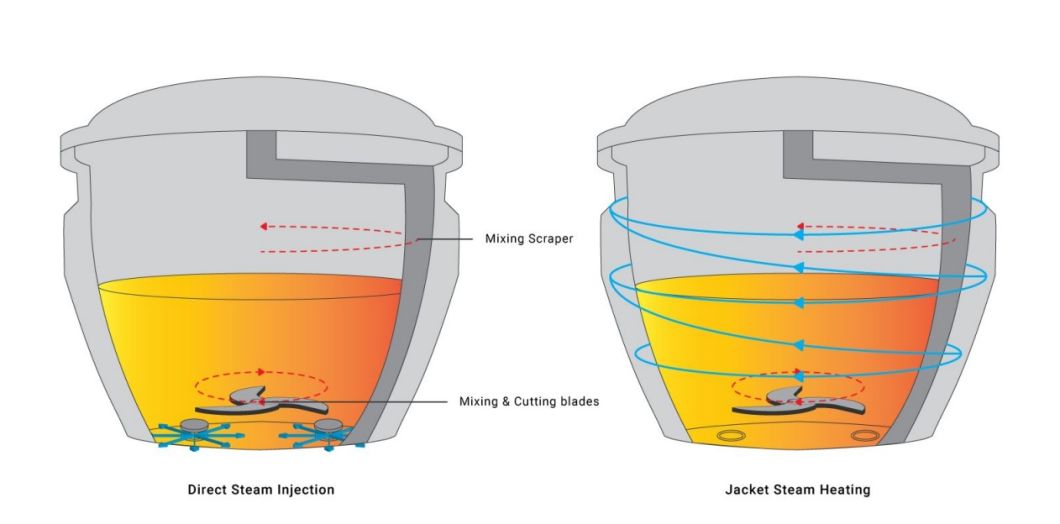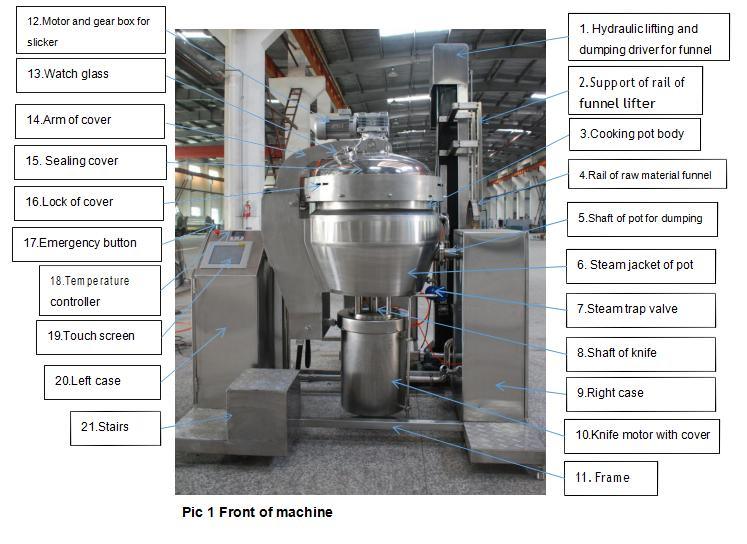 Album Chen
Add : No. 1328, Hengnan Road, Pujiang Town, Minhang District,Shanghai
Web: genyang.en.made-in-china.com
SHANGHAI GENYOND TECHNOLOGY CO.,LTD.
GENYOND MACHINERY INDUSTRIAL GROUP