industrial almond roasting machine/nut dryingmachine/nut roaster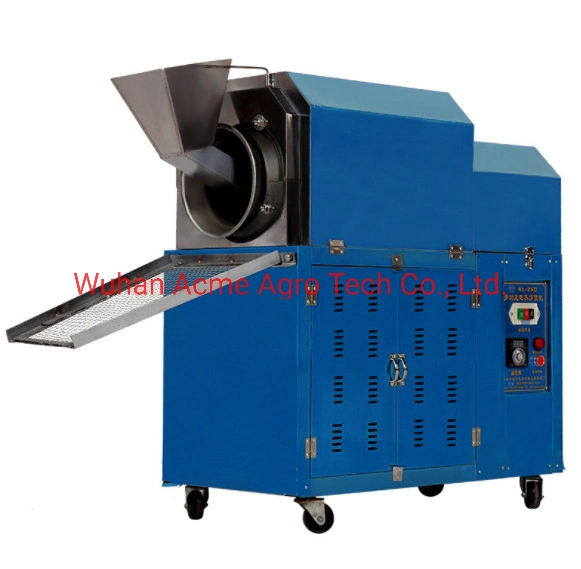 introduction
This multi-functional fryer also called chestnut fryer,seeds fryer etc. It is type, suitable for many kinds
of grains and nuts/seeds: wheat, beans,rice, chestnut, peanuts, melon seeds,sunflower seeds, pine nuts,
filbert, almond, rape seeds, coffee beans, sesame, medicinal materials etc. This machine widely used in all
kinds of stores, supermarkets, shops, food specialty shops, chain stores, processing plants etc.
Characters
1.The machine adopts unique drum horizontal structure, well-distributed heating, reliable sealing, braised fire effect is very good. Structure updated: with back cover which can be opened, easy and convenient for maintenance and repair.
2. The seeds fryer with temperature controller, can adjust temperature at will.
3.drum interlayer adopt high quality asgoodos insulation materials, heat preservation is good condition , high thermal efficiency. Can guarantee the nuts to adapt to the various temperature requirements, fried food taste is good, time and electricity saving..
4. In the process of frying, material inside the drum wont stick . Also easy out after fried, only need to turn switch to"ANTICLOCKWISE" place, can out of the pot for screen separation, no need manual separating.
5. This vertical seeds fryer, up is pot, below is heating tube, with the pot impeller stirring constantly, can see the performance of fried seeds, easy to check and with beautiful appearance.
Iron Tank Fryer

Model

Voltage(V)

power(KW)

output

size(mm)

Heating type

AL-25R

220

1.1

12.5kg/time

990*470*1000

Gas, coal

AL-25D

380

6

12.5kg/time

990*470*1000

electricity

AL-50R

220

1.5

25kg/time

1250*600*1300

Gas, coal

AL-50D

380

9.5

25kg/time

1250*600*1300

electricity

AL-100R

220

1.5

50kg/time

1500*800*1560

gas, coal

AL-100D

380

15

150kg/time

1500*800*1560

electricity

Stainless Steel Tank Fryer

AL-25R

220

1.1

12.5kg/time

990*470*1000

Gas, coal

AL-25D

380

6

12.5kg/time

990*470*1000

electricity

AL-50R

220

1.5

25kg/time

1250*600*1300

Gas, coal

AL-50D

380

9.5

25kg/time

1250*600*1300

electricity

AL-100R

220

1.5

50kg/time

1500*800*1560

Gas, coal

AL-100D

380

15

50kg/time

1500*800*1560

electricity